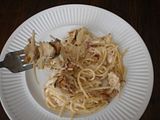 Mediterranean Style Chicken Pasta Bake
And I'm back - with pictures and everything! Now if you missed the beginning, click
here
.
I'm pretty sure you're saying, "Um, that's not flat bread." You're right. Let me tell you what happened. Remember those two sad possibly frost bitten chicken breasts that were in my freezer? The trouble started with them. I put them on to simmer in some water just to get them started. Then a bit of a calamity broke out over a box that a pink magic wand came in from the dollar store. Let me remind you I have boys. My four-year-old talked my three-year-old into choosing the pink glow in the dark wand while he chose the blue glow in the dark sword for himself. Now why anyone wanted the box, I have no idea but it was of huge importance this afternoon. In redirecting the battle, I forgot about the chicken, took a phone call from a friend and then calmly walked into my kitchen to what sounded like the Ghost of Christmas Past. It was the chicken, boiled dry in my cast iron pot. Okay so I took it out and tried to slice it to marinate it. It shredded. No problem, right? I shredded it and added some Italian dressing and let that simmer a bit, stirred in some cream cheese and things were looking good. I was thinking I'd toast the flat breads a bit, put the chicken mixture on the flat breads, top with spinach and cheese and voila! You would all be so impressed at my ability to go from having nothing to make and no plan to pulling out THIS little beauty.
Well, then I remembered a half of a jar of roasted red peppers and sliced them up and threw them in the pot. I was wishing about this time I had some wine to thin the sauce a bit but it's been that kind of weekend and there was no wine to be found. No chicken broth either. But way in the back, I dug out some bouillon and made a little broth to thin it. You know when you're adding liquid you can always add more but you can't take it out, right? Well I added too much. It was a little soupy. And really I would have taken pictures, but the camera was in my husband's car miles away. I thought I'd let it cook down and evaporate - reduce for you fancy cooking term people. Then I dipped a bit of flat bread in to taste and all of a sudden it dawned on me - the perfect pasta sauce base kind of dish.
So I scrapped the flat bread idea and even though we ate spaghetti last night, we're having pasta again. I'll let you know how it goes over.
Mediterranean Style Chicken Pasta Bake
Recipe by Michelle's Dinner Bell
2 cups chicken, cooked and shredded
1/2 cup Italian dressing
4 oz reduced-fat cream cheese
1 cup chicken broth
1/4 cup sliced roasted bell peppers
1 cup mozzarella cheese, divided
6-8 oz spaghetti, broken in half and cooked 6 minutes
1/2 cup bread or cracker crumbs
Preheat oven to 400 degrees. Place chicken and Italian dressing in pot and simmer fifteen minutes. Stir in cream cheese and peppers and blend well. Add chicken broth. Stir in 1/2 cup of mozzarella cheese and cooked spaghetti. Put mixture in casserole dish sprayed with non stick spray and top with cheese and then crumbs. Cover with foil and bake 20 minutes.
I served this casserole on a bed of baby spinach. I'd say it was a hit. Husband liked it and ate it without bringing up the fact that we had spaghetti last night, three-year-old ate it and especially liked the yellow peppers and four-year-old sat at the table and looked at it without gagging. SUCCESS!